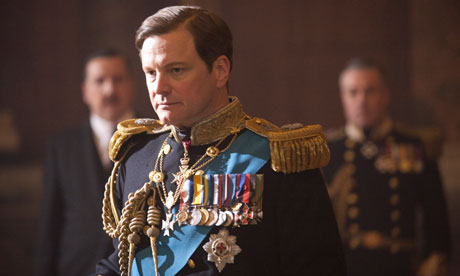 Director: Tom Hooper
Starring: Colin Firth, Geoffrey Rush, Helena Bonham Carter, Guy Pearce, Michael Gambon, Timothy Spall
"If I am King, where is my power? Can I declare war? Form a government? Levy a tax? No! And yet I am the seat of all authority because they think that when I speak, I speak for them. But I can't speak, because I have no voice." At the eve of World War II, King George V (Gambon) passes on and Edward VIII (Pearce) abdicates to be with an American divorcee, leaving Edward's brother Albert (Firth) to become King George VI. However, dear Bertie's got a stutter, and in the new era of radio, that just won't do. To overcome this, he starts seeing Australian speech therapist Lionel Logue (Rush), and the two form a great bond over the course of their training.
Want to see a movie that proves England is a country overflowing with great performers? This is it. Want to see an incredible period piece about pre-WWII England? Still this one. Want to watch a stellar performance based entirely around an imperfection? Again, this is the one to see. Firth is (in my opinion) the worthiest of all possible Best Actor nominees I've seen so far, and he and Rush have a great onscreen chemistry, even better than he and Bonham Carter do. Playing a flawed character in this style is very difficult to pull off properly, but by all accounts, Firth succeeds in spades. Pearce is also great as the overly emotional Edward, and the choice of Gambon as George V made me overjoyed (as I always am) for the impossible prospect that at any moment, he and the other Potter alumni would whip out wands and send spells flying every which way. In all seriousness, it's a great event from history I knew nothing about, and this was an incredibly entertaining way to learn.
As an aside: despite their many faults (which are outlined in the great documentary This Film is Not Yet Rated), I often agree with MPAA decisions. However, this is one R-rated movie that teens of all ages should be seeing. They use the f-word some 17 or so times, but as a method to help with the stutter (anger tricks the brain into not holding itself up; who knew?), as well as a few other words, but nothing a teenager hasn't already heard.